| | |
| --- | --- |
| One Night at the Cube Club | 10.31.01 |
GamerLog's Ray Almeda spent one amazing night at Nintendo's Cube Clube in San Francisco. His in-depth report

makes for a very enjoyable read. Click over to GamerLog

to read it.




| | |
| --- | --- |
| MTV's GameCube Clock is Ticking | 10.29.01 |
We knew Nintendo's marketing campaign would be extensive. We knew that Cube Clubs and mass mailed demo discs were unique to Nintendo's style. Today we learned just how far Nintendo would be willing to go to get the message out to the American teen demographic. According to Advertising Age magazine, Nintendo's marketing effort now includes, "a live countdown to the GameCube launch starting Nov. 17 on Viacom's MTV."




| | |
| --- | --- |
| GameCube Launch: Tony Hawk Pro Skater 3! | 10.29.01 |
What was a convincing rumor a few days ago, today is fact. According to Nintendojo

, Activision is reporting that they will have Tony Hawk Pro Skater 3 in stores on GameCube's official launch day.




| | |
| --- | --- |
| "Save your Hands" - for GameCube | 10.25.01 |
Nintendo marketing gets quite witty with the first in what's surely to be a long line of Internet-only film shorts advertising the GameCube. "Save your Hands" (download) is one series of shorts created by Nintendo intended to, "capture the extremes some players might go through keep their hands in top condition for gaming on Nintendo GameCube." Enjoy...




| | |
| --- | --- |
| Nintendo Power on GameCube Titles | 10.24.01 |
The reviewers of Nintendo Power have chimed in with the magazine's first ever reviews of GameCube games. Both Sega's Super Monkey Ball and Lucas Arts / Factor 5's Rogue Leader received perfect scores. Nintendo's first party offerings didn't fare as well.



Luigi's Mansion: 80% (4 / 5)



Wave Race: Blue Storm: 70% (3.5 / 5)



Star Wars Rogue Leader: 100% (5 / 5)



Super Monkey Ball: 100% (5 / 5)




| | |
| --- | --- |
| GameCube Launch: Tony Hawk Pro Skater 3 | 10.24.01 |
According to EBgames.com, Tony Hawk Pro Skater 3 is now scheduled to ship on 11/15/01, the official ship date of Nintendo's GameCube. It now seems more likely than ever that THPS3 is an official GameCube launch title.





Yahoo Messenger Melee


Instant Messaging is available through a Super Smash Bros. Melee "IMVironment". Located inside of the message screen, screenshots of the upcoming game that can be previewed and sent with messages, a live countdown...





SSB Melee Japanese Box Art
The first images of box art for the Japanese version of Super Smash Bros. Melee have surface. GameCubicle.com enhanced the scan for your viewing pleasure. Thanks to GC-Inside.com

.



| | |
| --- | --- |
| Famitsu Advance, Pikmin 9.5 | 10.20.01 |
Famitsu's Nintendo-specific publication rated Miyamoto's Pikmin a 38/40. The very impressive score indicates that, as expected, Pikmin is a truly great game. We're still awaiting reviews from Famitsu's main stream publication which generally is a little more strict in game ratings.




| | |
| --- | --- |
| EBgames.com GameCube Presale | 10.19.01 |
EBgames.com

unexpectedly launched another round of GameCube presales on October 19th. If you're interested in reserving a GameCube bundle, games, or accessories,
click here to visit EBgames.




| | |
| --- | --- |
| Matsushita's "Q" Details & Launch Date | 10.19.01 |

Matsushita has announced that their highly anticipated GameCube / DVD Player hybrid named "Q" will launch in Japan on December 14th. Importers, mark your calendars.



It is now known that the system will be sold on Matsushita's Web site for 39,000 yen ($328). The company emphasizes that electronics retailers will be allowed to set their own price.



The console will be manufactured in significantly smaller quantities than its purple relative. Matsushita plans to produce just 15,000 each month with a one year sales target of 100,000. We imagine that these numbers would change dramatically after a still-unplanned North American launch of the console.



More details as they develop. Credit to Reuters

.




| | |
| --- | --- |
| Bloomberg Reveals GameCube Launch Details | 10.19.01 |
The North American launch of Nintendo's GameCube console is less than one month away. Nintendo's Vice President of Corporate Affairs took time to mark the one month milestone by sharing quite a number of launch details with Bloomberg.




| | |
| --- | --- |
| Nintendo Power Issue 150 | 10.18.01 |

In July of 1988, a magazine by the name of "Nintendo Power" went into publication. Over a decade later the now-monthly publication nears its 150th issue.



Though details on the highly anticipated issue are hard to come by, we know that the bonus issue will be quite large, come sealed with a GameCube preview CD, and is extensively dedicated to the GameCube and games.



Sorry we have such limited information at this time. GameCubicle.com will surely report more information as it develops... perhaps a lengthy feature on Nintendo's main mag?




| | |
| --- | --- |
| Nintendo to Distribute GCN Preview CDs | 10.18.01 |
"If you just can't wait to get your hands on a Nintendo GameCube game on November 18th, be on the look-out for the next best thing - a Nintendo GameCube promotional CD-ROM," reads the latest Nintendo press release

announcing the broad distribution of the much desired GCN preview CDs.



Until now, the hard to find CDs were only available at Nintedo's Cube Club locations. This will soon change... "Nintendo Power will polybag the CD with the November issue of the magazine, which also happens to be the 150th big bonus issue!"



Not a NP subscriber? Retailers will soon be distributing GameCube CDs in limited quantities at retail outlets nationwide. Participating retailers include Best Buy, Circuit City, Electronics Boutique, Babbage's, Kay Bee Toys, Kmart, Sam Goody, Target, The Wiz, Toys R Us, and Wal-Mart among others.



This is very exciting news and the effort should help Nintendo to penetrate an interactive media-intensive message extremely well to a massive audience.




| | |
| --- | --- |
| EB Reports Impressive GameCube Sales | 10.17.01 |
EBgames.com

is reporting, "GameCube took yesterday's bestseller list by storm. Our GameCube bundles became the fastest selling items in the brief yet celebrated history of EBgames.com

. Even though the bundles sold out in record time, we've still got plenty of GameCube games and accessories available for pre-order. And from what we saw at a recent Nintendo Cube Club, these Cubilicious titles deserve their newfound bestseller status."




| | |
| --- | --- |
| EGM Mixed on GameCube | 10.17.01 |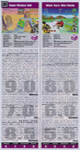 GameCubicle.com has received the following GameCube game ratings from readers that just received EGM's most recent issue - December 2001. According to the numbers, it seems that either some launch titles are not as great as we would have imagined or EGM reviewers are just plain foolish - you decide.



One reviewer complained of Wave Race, "I can't get past the touchy, unforgiving control that plagues this game." How such a fine game could receive such a deplorable rating from EGM is beyond comprehension. In contrast, Rogue Squadron 2 was referred to as the reason to own GameCube.


Super Monkey Ball
9.0 / 7.0 / 8.5
= 8.2

Wave Race: Blue Storm
8.0 / 6.0 / 5.5
= 6.5
Luigi's Mansion
8.0 / 5.5 / 9.0
= 7.5
Rogue Squadron 2
9.0 / 9.0 / 9.0
= 9.0



| | |
| --- | --- |
| Premiere American GameCube Commercial | 10.15.01 |
This past weekend, Nintendo offered the gaming community something nobody ever expected from the family company... an edgy, mature, and hard hitting commercial for GameCube clearly targeted and a 16+ crowd. The commercial was aired all weekend on MTV. We would attempt to describe the commercial but, well... just view it yourself.





EXCLUSIVE: EBgames.com Pre-Sales


Like its brick and mortar counterpart, EBgames.com will soon launch presales of Nintendo's GameCube console. Also up for reserve on October 15th, the details on this bundle are different...




| | |
| --- | --- |
| Cube Club Video! | 10.11.01 |
IGN Cube lands a great video from Cube Club LA. The clip includes the interviews of many famous celebrities and also gives viewers an exclusive look inside. Click to view the video courtesy IGNCube

.




CONFIRMED: Electronics Boutique Pre-Sales


Electronics Boutique will soon launch presales of Nintendo's GameCube console. The word comes from Electronics Boutique managers and employees at a number of locations across the United States. October 15th is the day and the following is the bundle...




| | |
| --- | --- |
| GameCube Pikmin Commercial | 10.10.01 |
Easily the funniest commercial from Nintendo in a long time (since maybe the famed Zelda commercial

) has just been released. The ad for Pikmin has us all laughing with joy and wondering where the soundtrack can be bought. Click to view the commercial from N-Styles.



Nintendojo

offers the following translation:



bokutachi Pikmin; anata dake ni tsuete iku; kyoo mo hakobu tatakau fueru; sooshite taberareru



We Pikmin; Are going only with you; Today also fighting, increasing, and so; Can be eaten



iron na inochi ga; ikite iru kono hoshi de; kyoo mo hakobu tatakau fueru sooshite; taberareru



Various life; Which has lived with this star; Today also fighting, increasing, and so; Can be eaten




| | |
| --- | --- |
| KBKids.com Starts Pre-Orders | 10.10.01 |
The online side of retailer KB Toys has started GameCube presales. Bundles include a GameCube, 3 games, and a Nintendo memory pak for $399. If you have not yet reserved a system and wish to order a bundle, visit
KBKids.com.




| | |
| --- | --- |
| Miyamoto Talks Pikmin | 10.09.01 |
Famed Nintendo game creator Shigeru Miyamoto recently sat down for a discussion with Famitsu. The interview focused on EAD's highly anticipated title, Pikmin. Click over to Cloudchaser Nintendo for the interview

.




| | |
| --- | --- |
| Electronics Boutique GameCube Pre-Sales | 10.09.01 |
September 1st. September 17th. October 1st... the list of incorrect rumored Electronics Boutique GameCube preorder dates is long and depressing. GameCubicle.com recently received word of yet another rumored date for EB presales...




| | |
| --- | --- |
| Amazon.com Sells Out in 4 Minutes | 10.08.01 |
Unless you were at your computer refreshing the GameCube bundle pages of Amazon.com at 2pm PST, you had little chance of successfully pre-ordering a GameCube from the Internet retailer. Amazon recently partnered with Toys R Us, the largest brick and mortar toy chain in the world, to back end the Computer & Video Games section of the site.



Reuters reported, "Toysrus.com, which is operated in conjunction with Amazon.com, began offering the consoles, bundled with games in a package, at 2 p.m. PDT, with each package costing $399. By 2:04 p.m., according to a spokesman for Toysrus.com, all of the packages had sold out."



As for the question we all want answered... Toysrus.com "declined to comment" on the number of bundles available in the presale. We'll update this story if or when we find out. Individual launch titles can still be pre-ordered from the retailer. Visit GameCubicle's buyer's guide to find out more on available systems and games.





GAMECUBE Pre-Orders!


Amazon.com will today begin taking preorders for Nintendo's GameCube console today, October 8th. The Internet retailer has partnered with Toys R Us for sale of video game products. Visit GameCubicle's bundle availability guide for more information...




| | |
| --- | --- |
| Japan GameCubes Modified for US Games | 10.06.01 |
It seems like yesterday that we were reporting from Space World that GameCubes would be near impossible to mod. IGN

has just reported that, "Japanese import GameCubes can indeed play US GCN software with a few neat modifications to the hardware." Apparently all it takes is skill, a soldering gun, and a lot of effort. Once modded, the system can be toggled between the two regions by a switch in back.





GameCube Travels in Style


GameCubicle gives you a first glimpse of the stylish cases that one day soon will facilitate transport of Nintendo's new gaming console. The cases are manufactured by BD&A - a merchandising and marketing firm.




| | |
| --- | --- |
| Nintendojo Turns 5! | 10.05.01 |
Happy Birthday Nintendojo! In the site's five years of Nintendo coverage, Nintendojo

has been featured in Nintendo Power and many print publications, taken readers inside gaming conventions and press-only events, interviewed the minds of the industry, and became one of the most respected gaming sites on the Internet. Click over to Nintendojo to read their special celebrating the occasion. Congratulations Nintendojo.

Nintendojo even mentioned GameCubicle.com in their special.





Amazon.com's Secret GameCube Games


You may not be able to find them at Amazon.com just yet but the etailer is already pre-selling highly anticipated GameCube games. GameCubicle.com did a little searching and has the exclusive links...




| | |
| --- | --- |
| So That's What the Handle is For... | 10.05.01 |
"The compact design of the GameCube console from Nintendo makes it a perfect candidate for accessories that allow gaming any place, any time... The Mobile Monitor 5.4 for GameCube is a 5.4-inch color LCD screen that attaches to the back of the GameCube for high-resolution viewing. The monitor comes equipped with two stereo speakers, two headphone jacks, and controls for both color and volume. In addition, a car adapter is included to power the Mobile Monitor 5.4 and GameCube on those long car rides." - InterAct



Yeah, we want one too. Unfortunately, you'll have to pay $149 for this puppy and it's a pretty small screen. Want to go really portable? You'll have to shell out another $49 for a rechargeable batter that powers both the GameCube and Mobile Monitor for up to two and a half hours.




| | |
| --- | --- |
| Reports of Pikmin Launch False? | 10.01.01 |
Sites including TendoGamers.com among others recently reported that Pikmin may now be a GameCube launch title. The primary source of the news was Nintendo's official Canadian site

. However, it's been reported to GameCubicle that the message has indeed been there for quite some time... before Nintendo officially moved the release date back to December 3.



Upon inspection of Nintendo.ca, we found that the "Mon, 1 Oct 2001" is merely the result of a script that reads today's date off a computer system. You can test this by changing the current date setting on your computer. GameCubicle is rejecting this development as a false alarm. Pikmin will be released December 3, 2001.




| | |
| --- | --- |
| Panasonic Internet Promotion | 10.01.01 |
Panasonic's site

now promotes "Cubistic Click" games and promotions. While the site is not much more than a spiffy advertisement for Panasonic products, you can at least win some cool stuff. 24 winners will win items ranging from an entertainment center to a GameCube-enabled entertainment center down to a pair of headphones.




| | |
| --- | --- |
| Sonic Adventure 2 Battle | 10.01.01 |
GC-Inside

reports that Sega's famed Sonic Adventure series will hit the GameCube with improved multiplayer scenarios, enhanced graphics, and a GBA link feature allowing for the breeding of Chao between SA2 on GameCube and SA on the Game Boy Advance. Sonic Adventure 2 Battle will be released in Japan on December 20th. [smiles in pure joy]